DD#2 arrived after 10pm so we started
our bake night rather late. We made two items resulting in
another late night for me.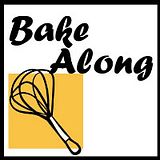 Viola Goren's Linzer Tart, pg 72 of Pies, Pies and More Pies
I used 1/2 cup almond meal,
1 cup ground hazelnut,
1.5 tsp of cinnamon and 1/4 tsp of kueh lapis spices
and rosehip marmalade in place of raspberry jam
Did not roll the dough as it was too soft, pressed down with
back of spoon and piped it on for the topping
(and we fail at piping!)
sliced and packed up for distribution!
Viola Goren's Linzer Tart
a tad too sweet for DH
Do visit the other ladies in this bake along and
get INSPIRED!